Screen Enclosures
Serving the Conroe and Greater Houston area
What are screen enclosures? Screen enclosures add a layer of sun protection and other elements, so you're more likely to spend time outdoors. Plus, screen enclosures can be pleasing to the eye and add value to your home when installed properly.  You may not be thinking of investing in a screen enclosure right now, but here are a a few reasons to help you reconsider
You Need A Relaxing Area in Your Home. Do you like spending time outdoors at home, but have not the most relaxing space? That's a common issue among homeowners. Decks and patios are great, but due to bugs and other elements, they don't let you relax as comfortably as you would if you had a screen enclosure. You can be protected from these elements by screen enclosures with solid roof, so you can sit outside and relax without worrying about anything. You can enjoy looking out from your deck or patio without being impaired or uncomfortable in your vision.
If you're not spending as much time outdoors as you'd like because of the insects, a screen enclosure may be right for you. Investing in a quality screen enclosure can help you get keep bugs at bay so you can have more enjoyment outdoors.
Click to call (936) 249-1665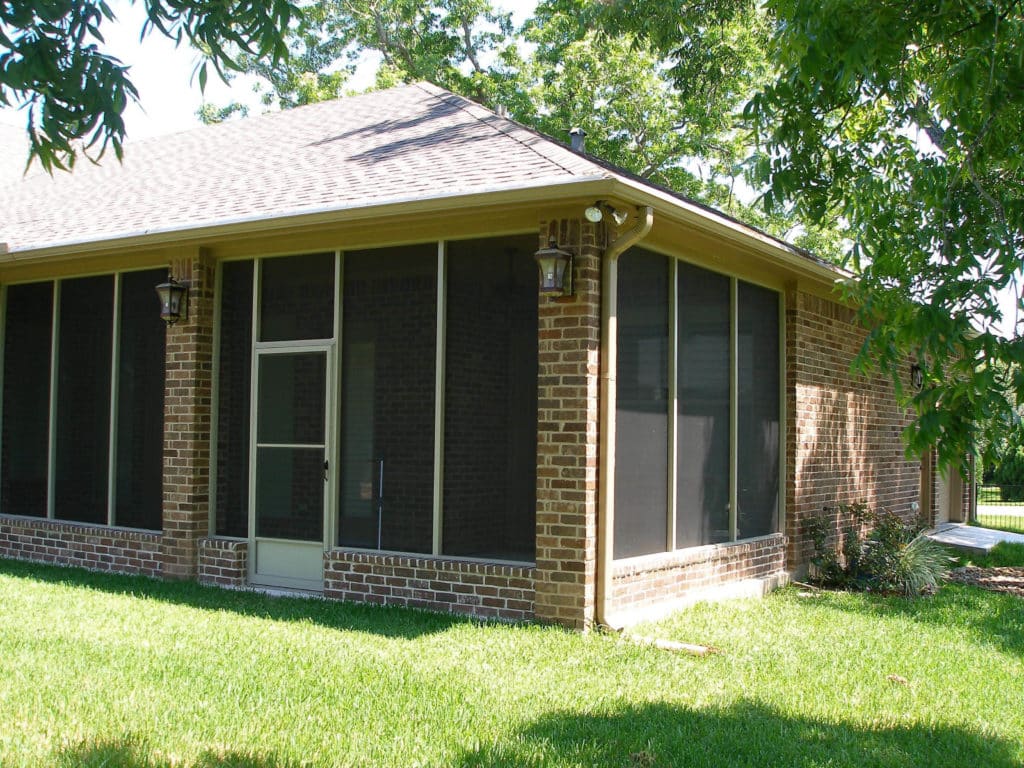 conroe Screen Rooms

You Want to Add to Your Pool Area? There are multiple reasons why having a screen enclosure around your pool is beneficial. We are going to start with the aesthetic benefits. When you are swimming, a screen gives you a sense of privacy, and you don't have to worry about bugs or anything else that will bother you while you're in it. Plus, a screen enclosure looks classy when it's surrounding any structure, especially a swimming pool. 
From a practical perspective, a screen enclosure will help keep your pool clean from blocking your drain from leaves, sticks and other objects. Many people are investing in a screen enclosure just so they won't have to work as hard to keep their pool clean throughout the year. Just make sure you get the best quality screen enclosure material you can afford so the investment will last a long time.
Screen enclosures are definitely worth it. When you hire Conroe Patio Covers to install your screen enclosure, you will enjoy it for many years as long as you take preventive maintenance measures to protect it.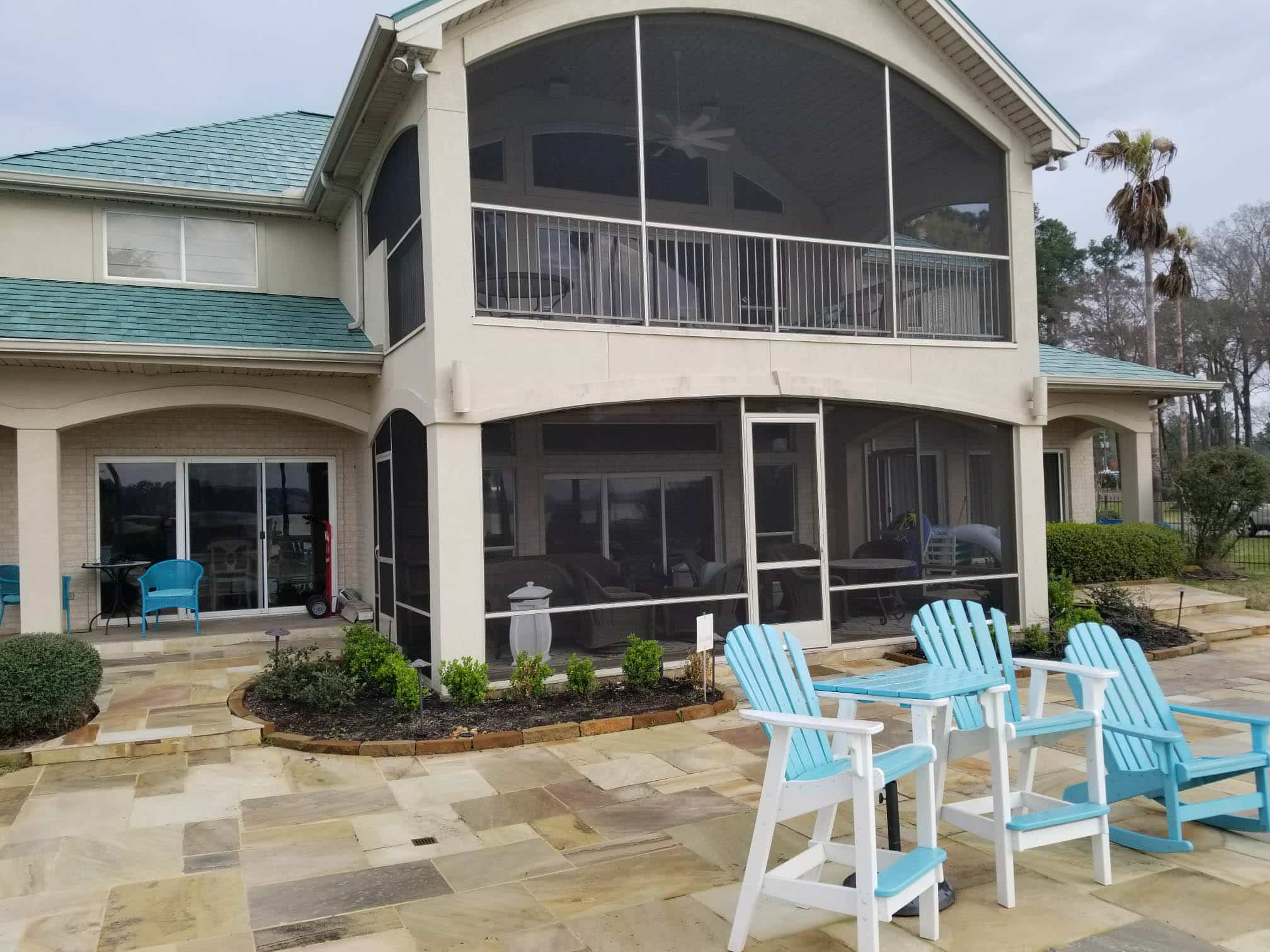 Conroe Screen Enclosures
Serving the Conroe and Greater Houston area
Why do patio screen enclosures become so popular? It is pretty simple. These smart structures bring very real benefits. Here are the top benefits of a screen enclosure.
Screen Enclosures provide the best of the two worlds. Patio screen enclosures create a space where you can enjoy both indoor and outdoor environments in the best way. It is easy to soak in the natural beauty of your backyard with a screened-in porch, without having to worry about the hassles that sometimes surround ventures into the great outdoors.
Keep insects at bay without any hassle. Gnats, mosquitoes, flies, ticks and other bugs can quickly make a miserable experience out of a warm, sunny day. Having these pests buzzing or crawling around you is annoying. Worse, their bites are uncomfortable and can even cause diseases. You can use insect repellents to keep them away, but they are often too fragrant and require frequent use to be even mildly effective. On the other hand, screen porch enclosures serve as a shield, protecting you and your family from these unwelcome visitors without requiring any extra effort on your part.
Offer protection from the elements. Soaking rains and bleak winds can make even a dedicated outdoor man stay inside for a long time, and while the sun feels good on your skin, it poses its own hazards. The screened enclosure of the patio creates a sheltered space that significantly reduces weather conditions, making it easy to enjoy the outdoors regardless of what Mother Nature has planned for the day.
Click to call (936) 249-1665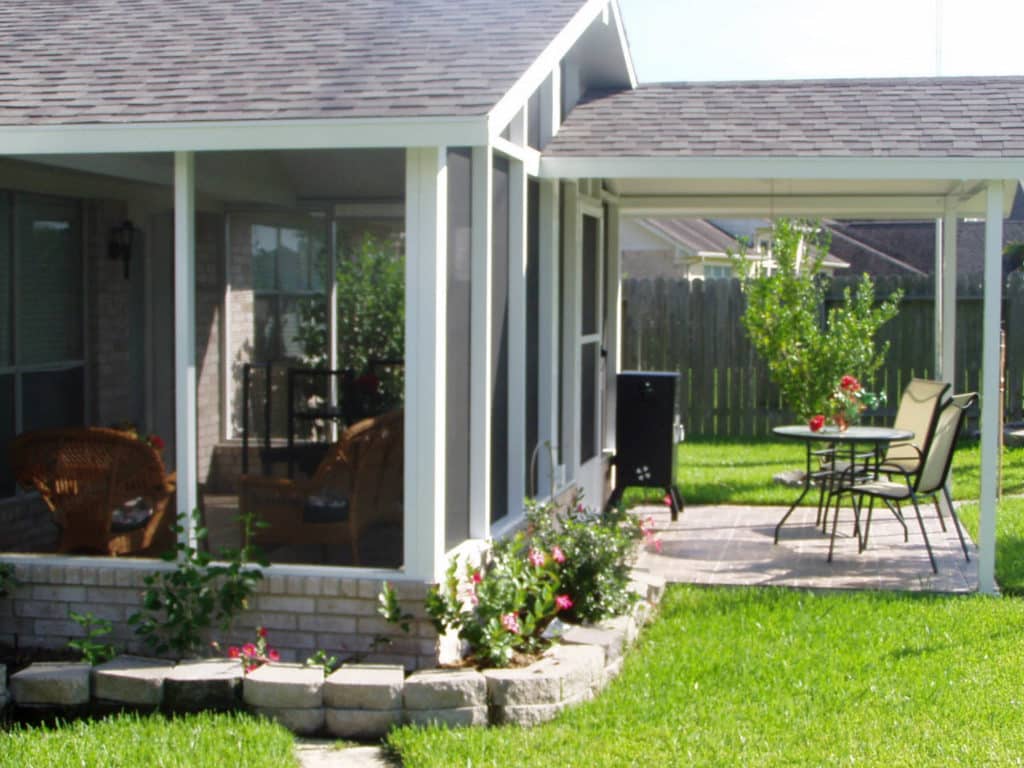 SCREEN ENCLOSURES

THE BENEFITS
Reduce maintenance requirements. The patio is a lovely feature, but keeping it that way takes a lot of work. Patio enclosures decrease this burden because the screens avoid the intrusion of leaves, branches and other debris. They also protect your patio furniture and other surfaces from the sun, decreasing fading and wear.
Provide extra space for entertainment. Whether you want to plan meetings for a few close friends or thrive on hosting parties filled with people, a walled patio enclosure is a real bonus. These screen-room patios are a fun place to have fun and let the party go on regardless of the weather.
Increase the value of your property. Screen enclosures are an inexpensive way to add to your home's space. Setting up one gives you more elbow room and a potential boost to the value of your home.
Add visual charm. Screen enclosures are not one-size-fits-all; they can be as simple or ornate as you want, and they come in an impressive array of sizes. The custom framework can easily be designed to complement the style of your home, creating an appealing addition to an esthetic appeal.
If you are concerned in enclosing your patio in your Conroe or Greater Houston area home, please contact Conroe Patio Covers. With years of expertise and experience, in-house manufacturing services and a strong commitment to quality, we are proud to be a reliable source of enclosures for the Conroe and Greater Houston areas.
Click to call (936) 249-1665
Screen Enclosures Conroe TX
There are many different types of screen enclosures for porches. But the most efficient screens are custom-made to fit your specifications and needs exactly. We can customize your screen enclosure to match your home's architecture, making it all seamless. Taking advantage of our experienced sales team, veteran layout and engineering department and proven manufacturing system, our installation process can assist in the following: 
Shed Style Screen Enclosure – This is a great choice for two-story homes with the need for a top to bottom enclosures. The enclosure will start high against the home and slant down to the outside of the pool area in a single angle. This might be constructed large enough to match the height of a home's second story. This style gives you an extraordinary sense of space and openness. With that style, you can grow ornamental trees in your enclosure, such as banana trees, to make it a tropical paradise.
Hip Style Screen Enclosure – There is an elongated peak in this type of enclosure, and the angles are similar to a house roof. These steep sides are good for shedding leaves and needles and are also nicely styled with homes. Hip style screen enclosures are great for one-story and two-story homes, meaning you get the height and space you need for entertainment and landscaping.
Gable Style Screen Enclosure – This type of screen enclosures for patios imitates the construction of the Hip Style with its elongated peak, but the angles are akin to that of a barn roof. This style is recommended for joining & connecting sections of enclosures, and for solid & insulated roofing work very well. This style is not ideal for second-story homes, but looks good on a ranch and flat roof style homes!
Not yet sure which style to choose for your home? Reach out to established screen enclosures companies like Conroe Patio Covers to help narrow down your choice!
Click to call (936) 249-1665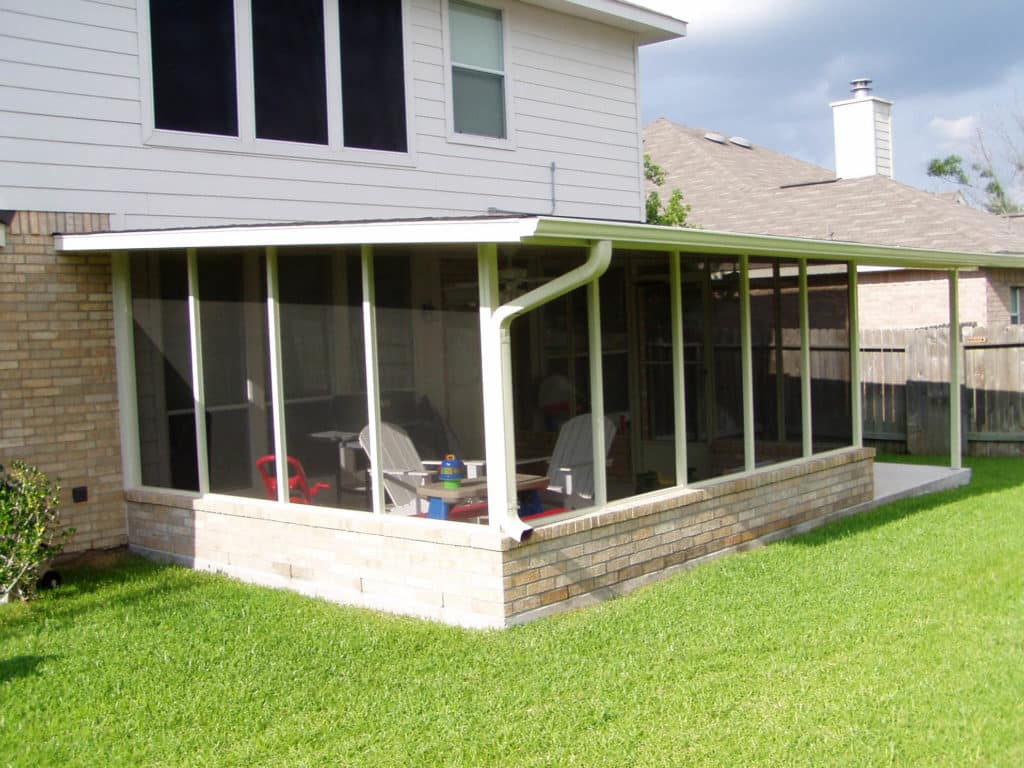 Margaret Curtis
Conroe, TX

Matthew Fox
Magnolia, TX