patio covers
Serving the Conroe and Greater Houston area
What are the best patio covers? This is a great question and the answer really depends on what you want and who you talk to. Conroe Patio Covers only builds insulated aluminum patio covers that last a lifetime. We have been building patio covers for a long time and know how to match the look and feel of any home. These custom patio covers can be roofed with matching shingles so they blend in with your home's existing roof. There are a lot of customization options available so you are not limited to a 10' x 10' square metal roof… Most of the time people want patio covers with ceiling fans. All of our patio covers can include ceiling fans and lighting. There are two roof styles that we offer… Studio or Gabled. They are both the same roof panels just a different look and design.
Click to call (936) 249-1665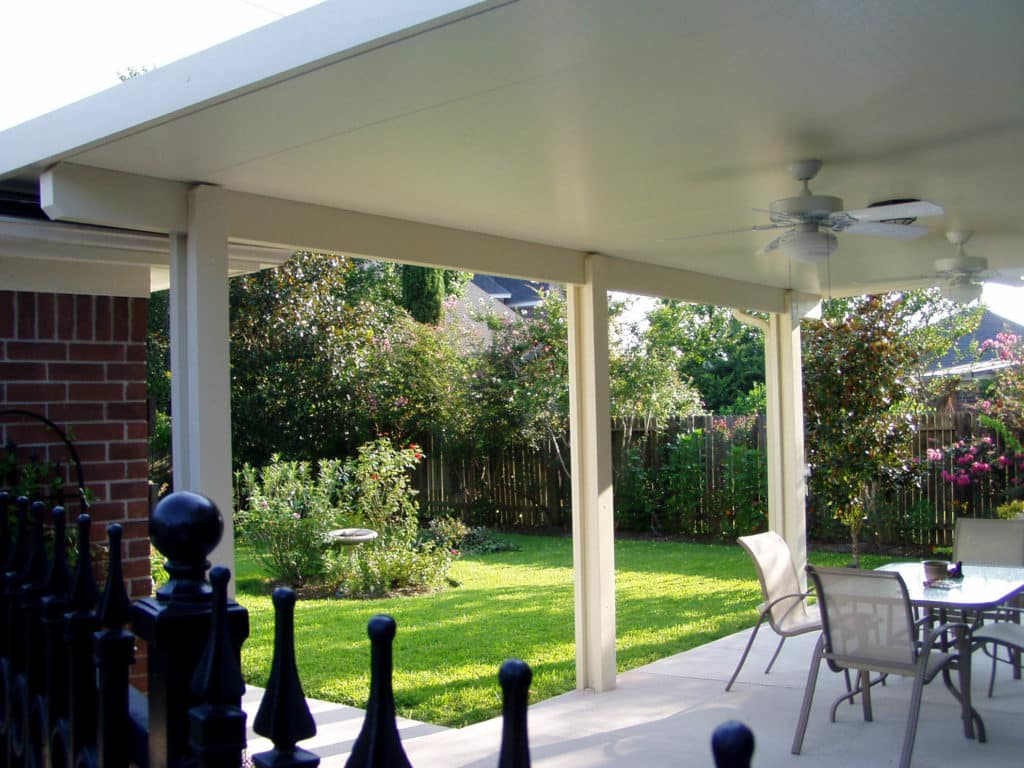 patio cover Roofs
Patio covers with studio roofs are the most common. They are pitched in a single direction sloping down and away from your home. This design blends very well with almost any architecture and directs water away from your home. Patio Covers with a gabled roof are sloped on two sides with the highest point in the middle. Think of a triangle or the letter A. Gabled roof patio covers have more of a custom look and feel.
The size or shape does not affect the quality of the roof we use for our patio covers. Everything we do is virtually maintenance free. All of our patio covers are impervious to insects. The finish retains its original color and will never rot, warp, or crack. Our patio cover's texture, and glossy look last much longer than any other product on the market. Call Conroe Patio Covers today so can show you ways to combine a solid cover with our lattice arbor or learn about our patio covers with adjustable louvers.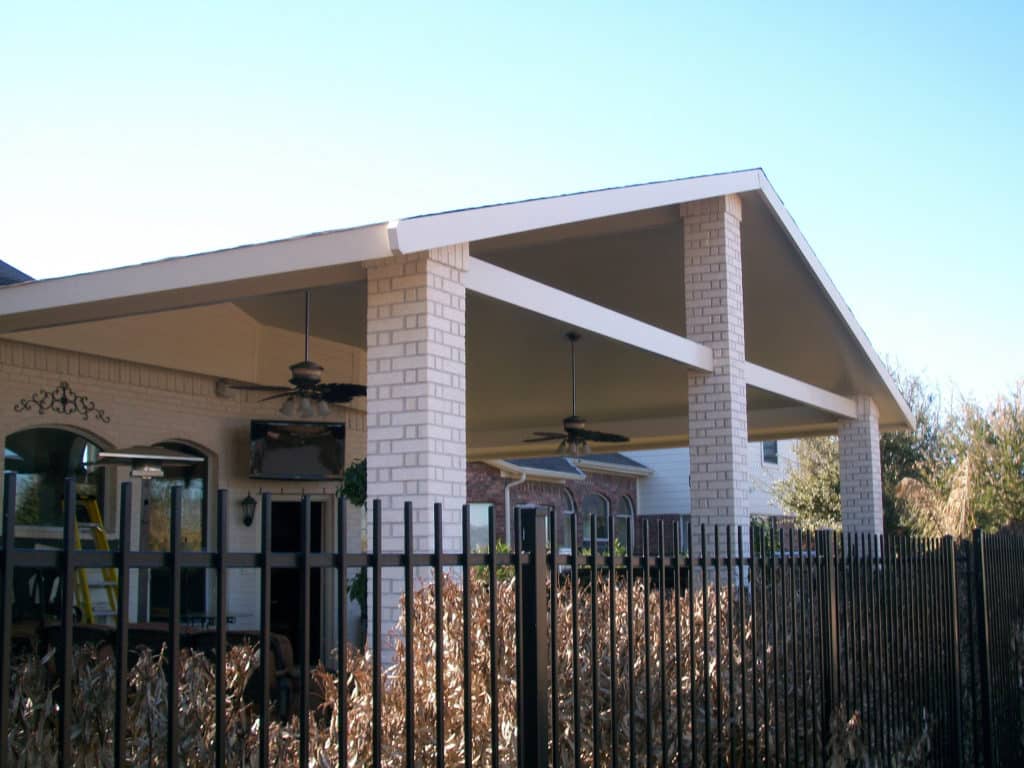 Conroe Patio Covers
Patio Cover or Pergola
Many of our customers have a hard time deciding between a patio cover or pergola. Both of these products bring their own benefits and charm to your outdoor living space. Pergolas can provide up to 85% shade but still allow sunlight. Patio covers offer 100% shade and protection from rain. We can't make the decision between a patio cover or pergola, or which one is better for you, but many times we incorporate both into our designs. Our patio covers can have the Sante Fe Trim Package which adds the lattice or pergola to our solid patio covers. This option adds the beauty of a pergola to the protection of our solid cover.
Click to call (936) 249-1665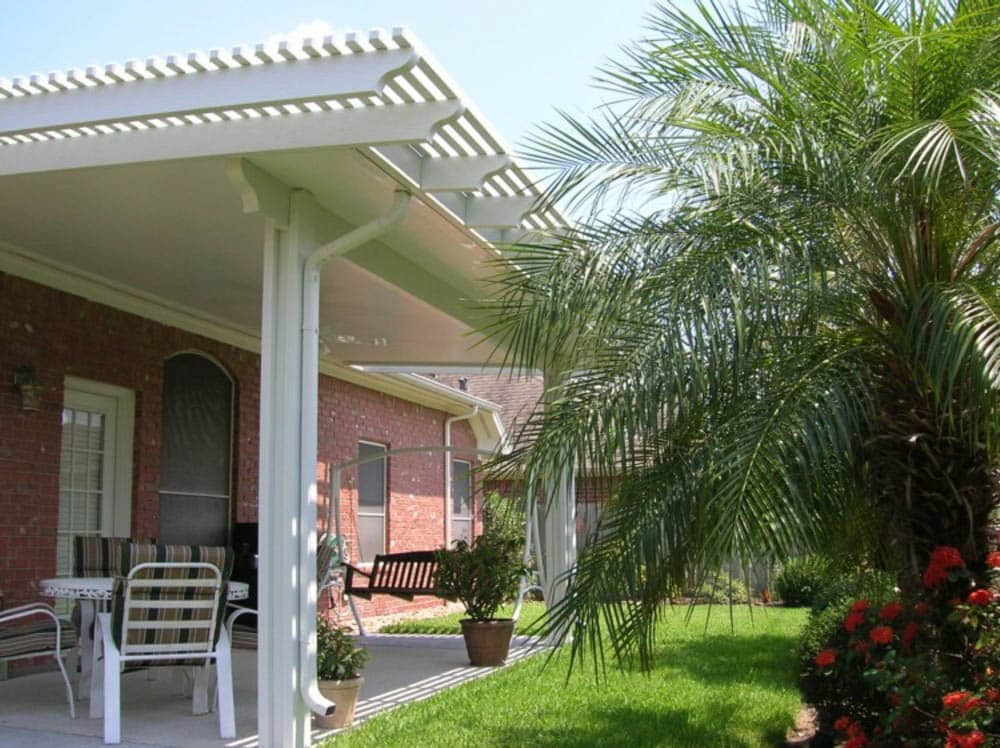 PATIO COVERS NEAR ME
adjustable patio covers
When you're looking for patio covers near me, make sure the company you call is professional with plenty of experience. Conroe Patio Covers has provided Conroe, and the whole Houston area with the highest quality patio covers on the market for over 30 years. We are your local patio cover company providing custom and lifetime warranted products. 
Deciding on our patio covers to add outdoor living space is a great way to enjoy your patio. An aluminum patio cover is also a wonderful way to increase the value of your property.
It's easy to pick Conroe Patio Covers over any other patio company. We consider every design detail ensuring that your new patio cover offers the ultimate weather protection with the least maintenance requirements.
Click to call (936) 249-1665
Patio Covers Conroe TX

Serving the Conroe and Greater Houston area
Homeowners love supporting their local communities and we love it when people call us when looking for insulated patio covers near me. Conroe Patio Covers is a local family owned and operated business. Our goal is to provide Conroe and all of North Houston with the best patio covers and enclosures.
The roof system in our patio cover is the best on the market. Our patio covers are insulated and actually provide protection from the sun unlike corrugated metal patio covers or carports. There is a noticeable difference in temperature under one of our covers vs standing in the sun. The 3" insulated patio cover offers an "R19" insulation value. That is just below the typical insulation of a home's attic. If you add a ceiling fan to keep the air circulating you can achieve a 15° difference in temperature during our hot summer months.
We use the same roof system for a patio cover that we use in our screen rooms and sunrooms. That means that we can easily add screen walls or glass walls to convert your patio cover into a patio enclosure. Sometimes a patio cover and pergola is exactly what you want. It is nice to know that you would never have to start over with our products and designs though.
Call us today if you want a free estimate.
Click to call (936) 249-1665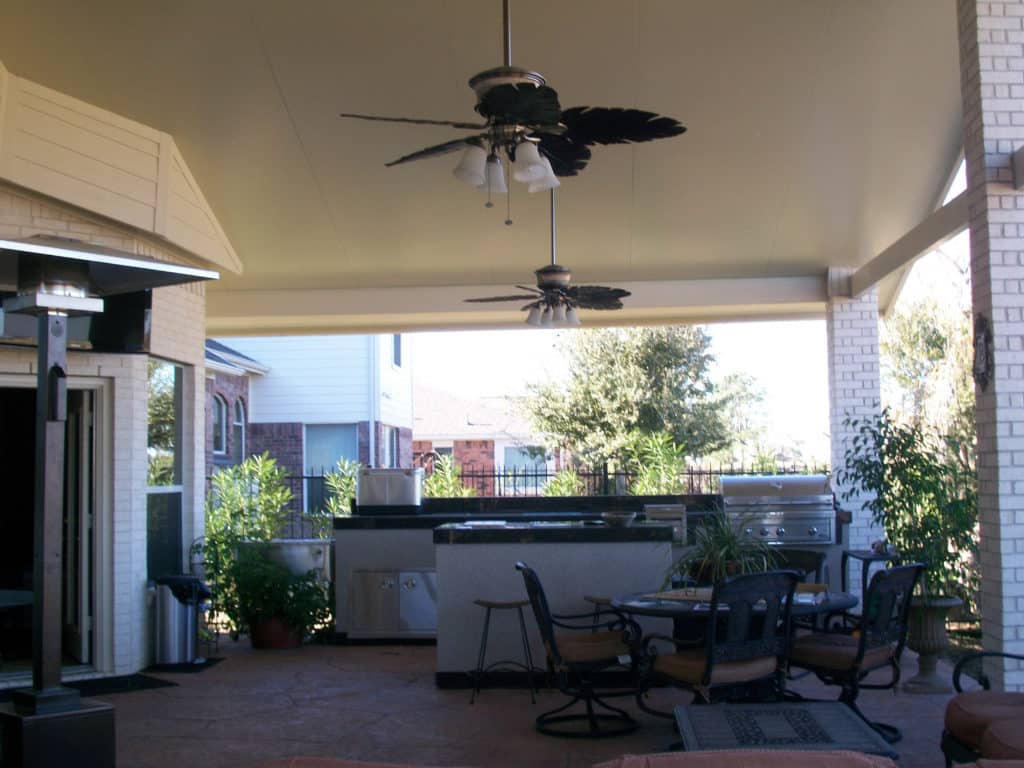 Margaret Curtis
Conroe, TX

Matthew Fox
Magnolia, TX