Conroe patio covers
Serving the Conroe and Greater Houston area
Are you looking for a Conroe Patio Cover for your home?
We are a local family-owned and family-run business here in Conroe. We have been building low maintenance patio covers, louvered roofs, pergolas, screen enclosures, and sunrooms for over 25 years. Call us today at (936) 249-1665 to schedule your free in-home estimate.
There are a lot of patio contractors out there to choose from when it comes to building your outdoor retreat. Here are just a handful of reasons to call us first… We are a local family-owned company. It still means something to be family owned and operated. We treat each of our customers with respect. We answer our phones and have been in business for over 25 years.
We have decades of experience and have built literally thousands of beautiful patio covers, louvered roofs, lattice arbors, and screened-in porches around North Houston. Here is a link to check out some of our photos.
Conroe Patio Covers is your Patio Cover Specialist. With all of our experience, we know to take our time and clarify all the details of your project. It's our responsibility to explain what we're going to do and educate you about the construction of your project.
Click to call (936) 249-1665
patio covers
If you are interested in a solid patio cover, Conroe Patio Covers offers insulated patio covers. One of the great things about our patio covers is they don't sound like you're under attack when it rains. You want your patio cover to provide shade and protection from the heat. There is a noticeable temperature difference under one of our insulated Patio Covers. Don't be tempted with some of the cheaper patio covers that are made from corrugated aluminum. You want a patio cover that enhances your outdoor space. We only use a 3″ insulated roof. (unless it's big enough that we have to upgrade to a 4″) Our insulated patio cover has an R19 value, which is the same insulation value as some whole attics.
For our screen enclosures and sunrooms we use the exact same insulated patio cover for the roof. Our patio covers are great because your outdoor space can be upgraded down the road. Some of our customers begin with patio covers, then later decide to add screened walls or even vinyl window to make a sunroom.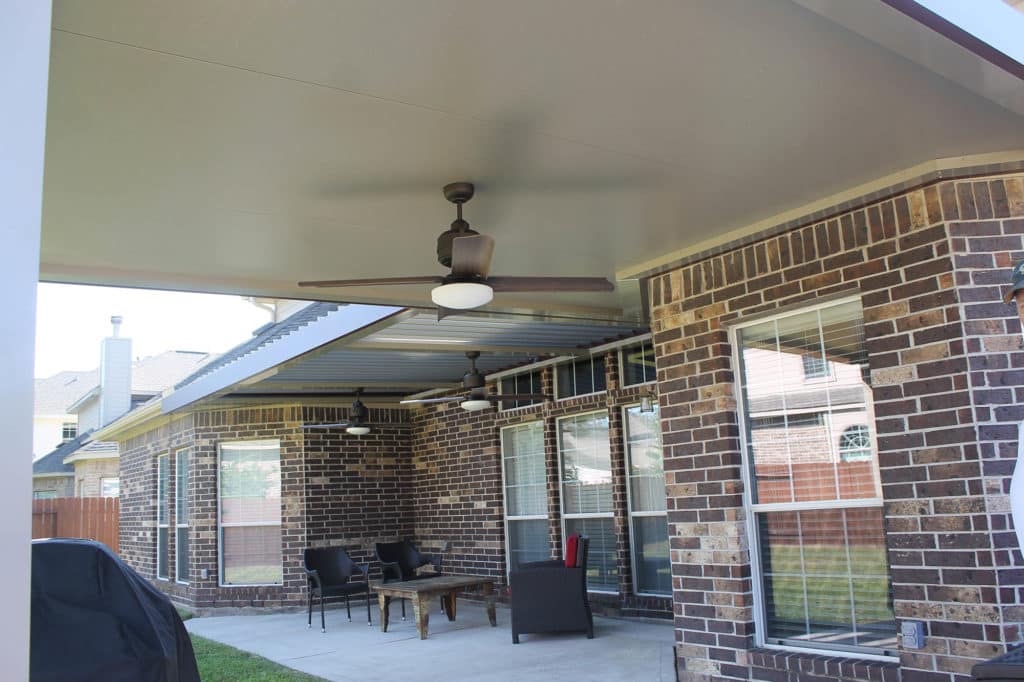 Santa Fe Trim Package

Our Santa Fe Trim Package is a great addon to your patio cover. We are able to add the look and appeal of a pergola, but keep the solid patio cover defense from the elements.
You get the absolute best with our aluminum patio covers. The aluminum is embossed giving it the beauty of real wood. Our products last a lifetime. Aluminum is durable and requires little to no maintenance. ⠀ The first and most important step is to choose the correct patio cover. Patio coverings built ut of wood require greater maintenance. Believe it or not, traditional wood patio covers can be more expensive to build and install. Our insulated patio coverings made of structural aluminum are durable, very stylish and practically maintenance-free. Also remember that our patio covers can be converted to screen or glass walls only down the road if you choose to upgrade.
Click to call (936) 249-1665
Screened in Porch

Screen Rooms and Patio Enclosures
Adding a Screened in Porch is a great way to really enjoy your backyard or patio. We custom build our patio enclosures and create a space outdoors where it's easy to relax. That is why so many people around Conroe call us for their screened in porch… It's a great place to enjoy your view of the lake! ⠀Our screen rooms are completely customizable. Our experts will create a personalized design to fit your home's architecture. We use the same 3″ insulated patio cover for our roofs on a screen room. We can still build our screen rooms if you have an existing cover or structure already there. We'll go over everything during the free in-home estimate. We build our screened in porches to last a lifetime. It will be completely custom to your home and outdoor living space! Nothing we do is a kit from a DIY Store. We don't wrap a piece of wood that is waiting to rot with the screen and call it a screen room. All of our screen rooms or patio enclosures are stick-built one piece at a time. Homeowners in Conroe, The Woodlands, Spring, Katy, Magnolia, Kingwood, Humble, Houston and so many others in the area trust Conroe Patio Covers to build their screened-in porch Call us today (936) 249-1665 to find out more or schedule your free in-home estimate.
Click to call (936) 249-1665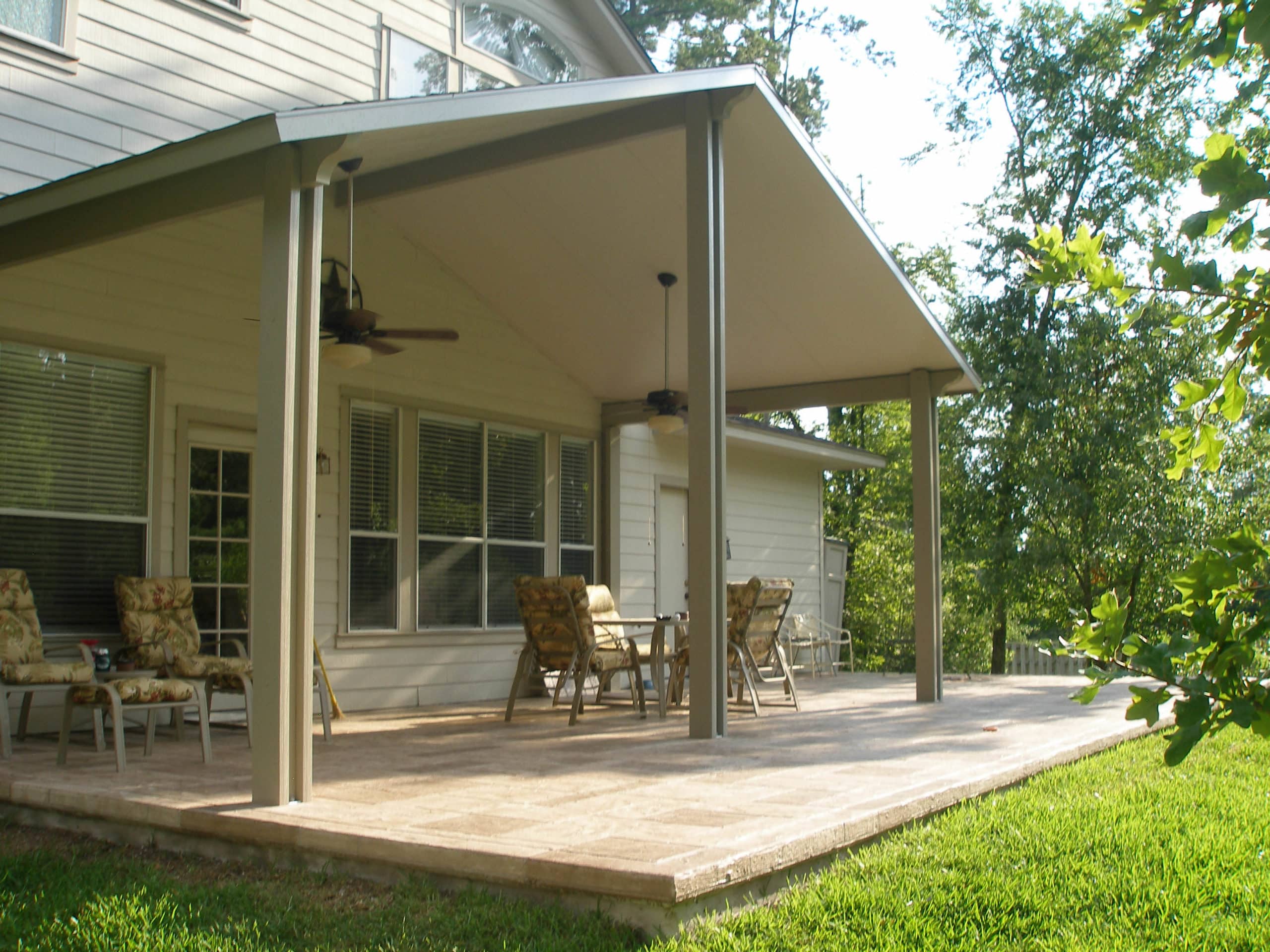 LOUVERED ROOF
adjustable patio covers
When you're relaxing or entertaining outside, an Equinox Louvered Roof complements your outdoor environment and gives you complete control. With the touch of a button, the louvers are remote controlled to open and close.  The louvers have 160 degree range of motion.  This allows open for full sun, tilted for filtered shade, or closed for solid rain cover. Louvered roofs are very versatile making them a great addition to any home or even business.
Conroe Patio Covers' louvered roof is both strong and reliable. Unlike traditional patio covers, the Equinox Louvered Roof is made of extruded aluminum. Our louvered roof performs in the heat, extreme cold, and even the rain. Plastic or fabric patio covers can't say the same. This type of patio cover is not for the timid. Louvered roof systems are game-changers when it comes to using your outdoor space. Call us today if you're ready to turn your patio into a place you'll use and enjoy instead of outdoor storage for your expensive patio furniture. If built right, pergolas can offer up to 85 percent shade, but provide zero rain cover. They really do look beautiful, but you can only enjoy them on a sunny day. Regular solid patio covers are perfect for 100 percent shade and provide shelter if it's raining. Sounds good right? In Texas on a hot summer day though, they can shield you from the wind as well. Most times solid patio covers require ceiling fans for any major air movement. The solution to all your weather-related issues is an Equinox Louvered Roof. Open them and close them with the touch of a button and you have the ultimate patio cover in any Texas weather in seconds.
Click to call (936) 249-1665
Insulated Patio Cover
Insulated patio covers are an excellent alternative for those looking for a solid and durable patio cover option. Whether you need shade to get out of that hot sun or cover-up on those rainy days, our insulated patio covers give you the benefits of both by using the latest technology. They can withstand up to even the strongest elements, such as severe rain and wind. They even help decrease the loud noises made by heavy rainfall.
Insulated patio covers are also energy efficient. Once you have an insulated patio cover set up in your home in the Conroe or Greater Houston area, you will see that much less energy is required to heat and cool your residence. The insulated roof system creates a thermal barrier system; this does not radiate heat, which is popular on single skin or non-insulated patio handles. 
The insulated patio cover has another advantage over the open lattice or non-insulated solid patio covers; they could be enclosed at a later date with garden walls, patio room walls, screen walls, or sun-room walls to widen your outdoor living space. Also, our insulated patio covers are designed to meet or exceed all building codes for your home.
Here at Conroe Patio Covers, we have both insulated patio covers and open and lattice variations. We can also create a unique patio cover for you, a mixture of lattice and insulated.
Even if you've already made a contract with other contractors, it gives us a chance to beat your written estimate. We're going to outwork and outlast every contract to cover the project around.
Click to call (936) 249-1665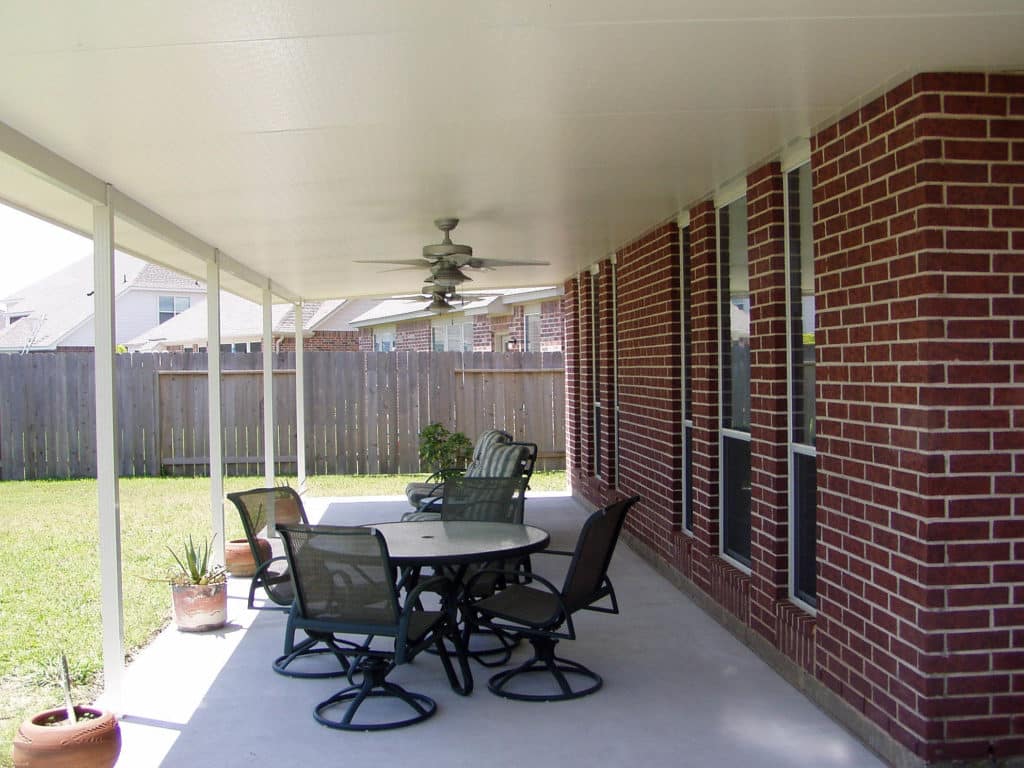 Porch Enclosures

Have you ever felt unpleasant at an outdoor event because of the insects that bother you? Do you want more privacy from your nearest neighbors, too? At Conroe Patio Covers, we'll make sure your existing or new porch with either glass or screen panels will protect you and your family from the elements outside. Imagine enjoying the beautiful outdoors without constantly worrying about unpredictable weather, bugs, or even your nosy neighbors!
All of our patio enclosures can add extra living space for your family to enjoy at home. If you are looking to have additional space to your home, but you are on a budget, keep in mind that a porch enclosure is cheaper than a standard home addition.
Also, our enclosures can increase the value of your home and add extra living space for your family. Our porch enclosures will also improve the appeal of your home while presenting you with a space that can be used all year round, depending on your climate.
If you already have a porch at your home that is in good condition, enclosing it is a great way to maximize its use and coverage without hurting your wallet. Conroe Patio Covers will work with you to customize the design of the enclosure that will fit your space precisely as well as your budget. Likewise, we can match the unique style of your home. Whether you have a modern or century home, we will work with you to design the perfect porch enclosure for your living space.
At Conroe Patio Covers, we design, install, guarantee, and service each of our enclosures to ensure that we provide you with the room of your dreams. 
Sun Room
Nothing is transforming a home like a sunroom. Space has been added. Sunlight and nature are brought in, but even more so, family fun seems to follow. Your sunroom is a bright, welcoming place for game nights, quiet chats, gatherings, parties, or time alone.
But what are sunrooms, exactly? 
The term sunroom is commonly defined as a recreation space bridging outdoor and indoor living areas, frequently with a considerable amount of wall space entirely dedicated to glass — often as much as 80 percent. Most sunrooms now have electrical services, and they may have additional heating and cooling. 
Designed for all-round living, sunrooms can be customized to fit your lifestyle and improve the beauty and value of your house. Contemporary and traditional sunrooms add light, elegance, and a luxurious look that blends perfectly with any home design.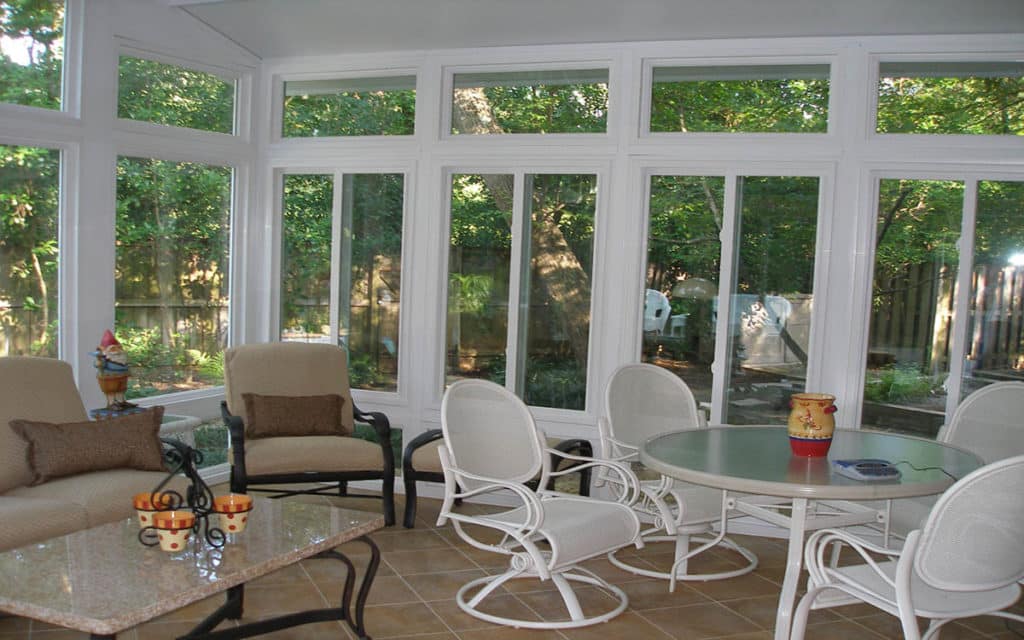 Conroe Sun Rooms

A sunroom is a tempting alternative to a conventional, full-sized addition. On average, the extra space added by a sunroom is defined as supplemental space—not the essential living space offered by room addition—for many homeowners, a sunroom is a perfect choice.
We have more than a few solutions when it comes to sunrooms. We can build them to your exact specifications. Customers flock to us for sunrooms because of our ability to deliver a high-quality sunroom on time and on budget every time.
Not only does Conroe Patio Covers offer you the largest and most complete product range in every architectural style, we also offer you the largest choice in structural materials: sleek aluminum, efficient vinyl, and warm and inviting natural wood. Only Conroe gives you this much choice to fit your personal style and build that bonus room, creating a space for many good times to come.
Click to call (936) 249-1665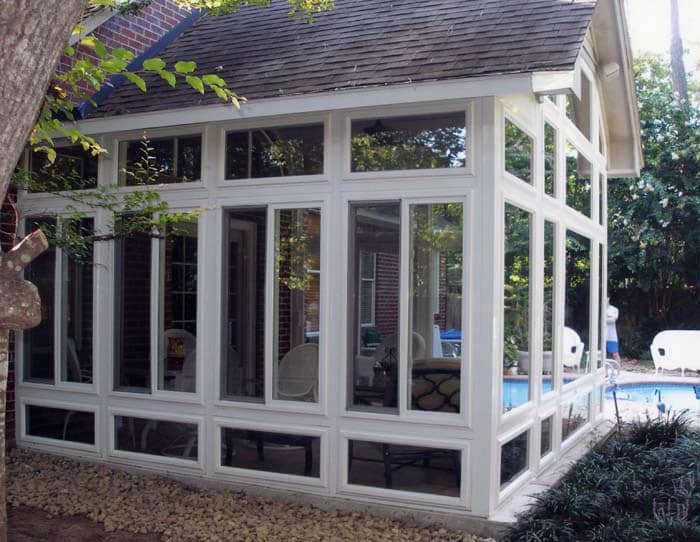 SCREEN ENCLOSURES
SCREEN ROOM
Adding a screen enclosure to your business or home offers several benefits, such as expanding the square footage of your property, guarding your patio and swimming pool from the weather, and keeping wildlife insects away from your home. Conroe Patio covers custom designs and installs screen enclosures and aluminum roofs in Conroe and Greater Houston.
Conroe Patio Covers offers a wide variety of doors for your screen enclosures, so you can choose one that enhances the aesthetic appeal of your porch or patio. You can also choose a door that opens inward or outward, depending on your preferences  and needs.
Adding a screen enclosure to your business or home offers several benefits. As soon as you have your screen enclosure set up, you can enjoy meals in an outdoor setting with the convenience of being shielded from the elements. You can also hold meetings and other activities with a screen enclosure for your business.
If you really need a new screen enclosure or a re-screening of your existing one, Conroe Patio Covers is the company you need to call. We use stainless steel hardware with ceramic coating and powder-coated finish to install screen enclosures. We can accommodate any project size.
A screen room is always complemented by our creativity and imagination when it comes to building the finest sunroom. If you rely on the best way to install a sunroom, you'll get life windows and a three-inch insulated roof. Talk about protection! The Houston Screen Room can even compare the shingles with the roof of your house. If you are ready for your own customizable high-end sunroom design, we'd love to hear from you. We know how valuable your time is. At Conroe Patio Covers, we are working hard to install screen enclosures efficiently to make sure that homeowners and their families can start using their new screen rooms as soon as possible.
Click to call (936) 249-1665
Aluminum Patio Cover
A patio can be a great improvement to your home, allowing you to sit back and enjoy the outdoors. The roof of the patio can provide shade during the hot summer months, protection from the weather during the spring rain shower, and extend the life of your patio and furniture. There are limitless materials you can use when it comes to patio covers. Here are just a few of the advantages of aluminum patio covers:
An aluminum patio cover blocks the sun's rays and decreases heat while still allowing 100 percent ventilation. When used in combination with window awnings, you can shade your patio and windows from the high summer sun and allow the low sunlight to warm your home in the winter to help control the temperature in your home.

Patio covers and window awnings protect your patio, doors, and windows from rain and snow. Aluminum patio covers and awnings are robust and have a long-lasting finish that works together and provides optimal protection for your patio and windows. Plus, unlike fabric, they're not stretching or tearing.

Aluminum patio covers are easy to manage. They don't have to be brought down during the winter as they can withstand most of the weather without any damage. Unlike a wooden patio cover, aluminum patio covers do not need to be painted, do not require annual maintenance or working hours to keep them well maintained, and will not be damaged by moisture or water.

Aluminum patio covers are made of very reliable natural and recycled materials and have a long-lasting finish. Due to their long-lasting finish and durability, they maintain their color and integrity. They do not fade due to sunshine or rain. Plus, you do not have to be troubled about rust, rot, or pests with aluminum like you might with other materials. Plus, you don't have to worry about rust, rot, or aluminum pests like other materials.

With aluminum patio covers, you also have plenty of options for customization. There are loads of shades to choose, and they come in various styles to give you the coverage you want, a style that you'll love that also matches well to your exterior design.
If you need further information about aluminum patio covers or are thinking about adding a patio to your home, please contact us at Conroe Patio Covers!
Click to call (936) 249-1665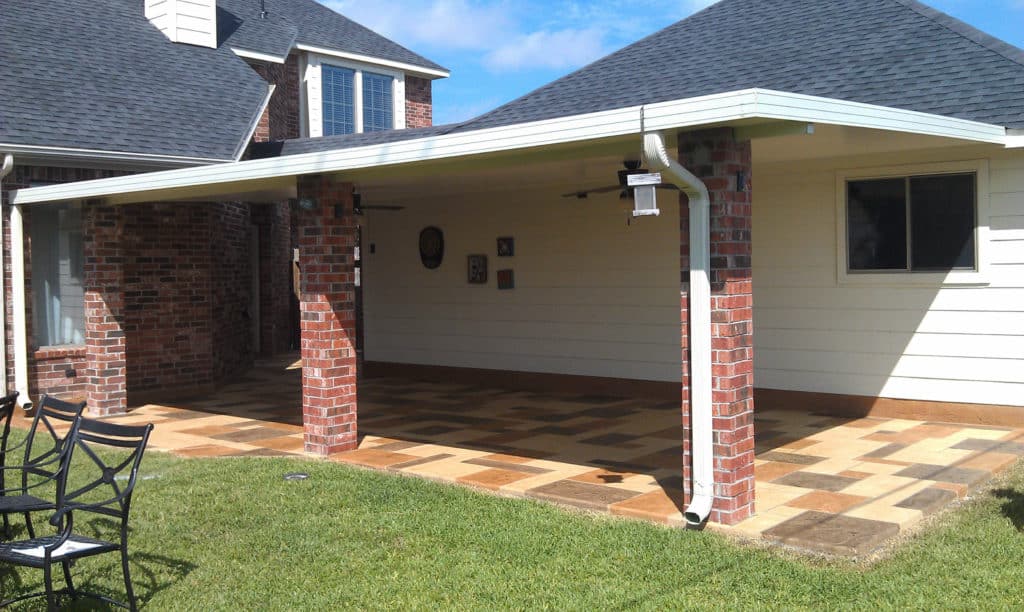 Patio Enclosures

Would you like to add style and comfort to your home without undertaking major repairs? You do not have to spend a lot of money making a meaningful change to your Conroe or Greater Houston property; you just need a stylish patio enclosure of Conroe Patio Covers!
The enclosure of the patio can be a wonderful addition to your outdoor space. It can provide shelter from the elements or create an environment for indoor/outdoor seating or sunbathing.
Both custom-designed and cost-effective, our patio enclosures will enhance your family's pleasure and satisfaction at home in some important ways;  you will gain a safe, fully enclosed space to dedicate to virtually any activity: entertaining, relaxing, exercising, playing with your kids, and more!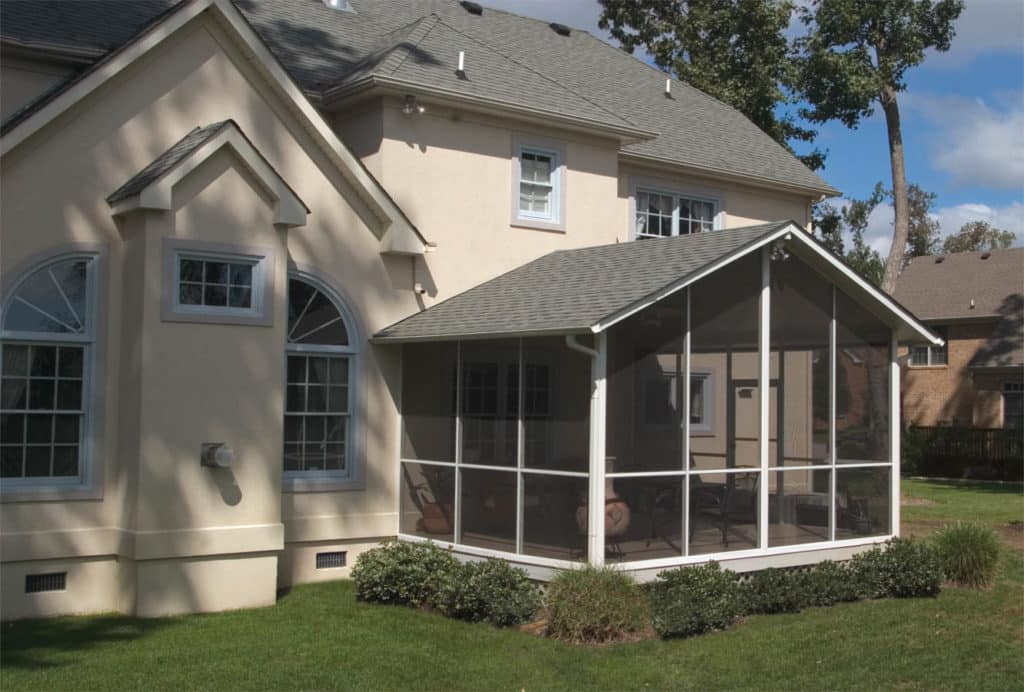 Conroe Patio Enclosures

With a screen or glass enclosure around your patio, you will have more privacy without compromising outdoor or natural lighting.
Protected from mosquitoes, bees, and other bugs, you can enjoy a more relaxing experience without worrying about stings and bites.
Since our patio enclosures can be customized to your style choices, your home exterior will gain from an instant boost to curb appeal.
Beyond the many lifestyle benefits mentioned above, the right patio enclosure installation can also add value to your Conroe or Greater Houston area property. There is one key sign. However, the patio enclosure must be well-designed and professionally installed following all relevant municipal codes, which is why you need the experts at Conroe Patio Covers!
Based on our company-wide commitment to doing what is right, we are going to complete your patio enclosure installation on time, on budget, and to the highest standards.
Click to call (936) 249-1665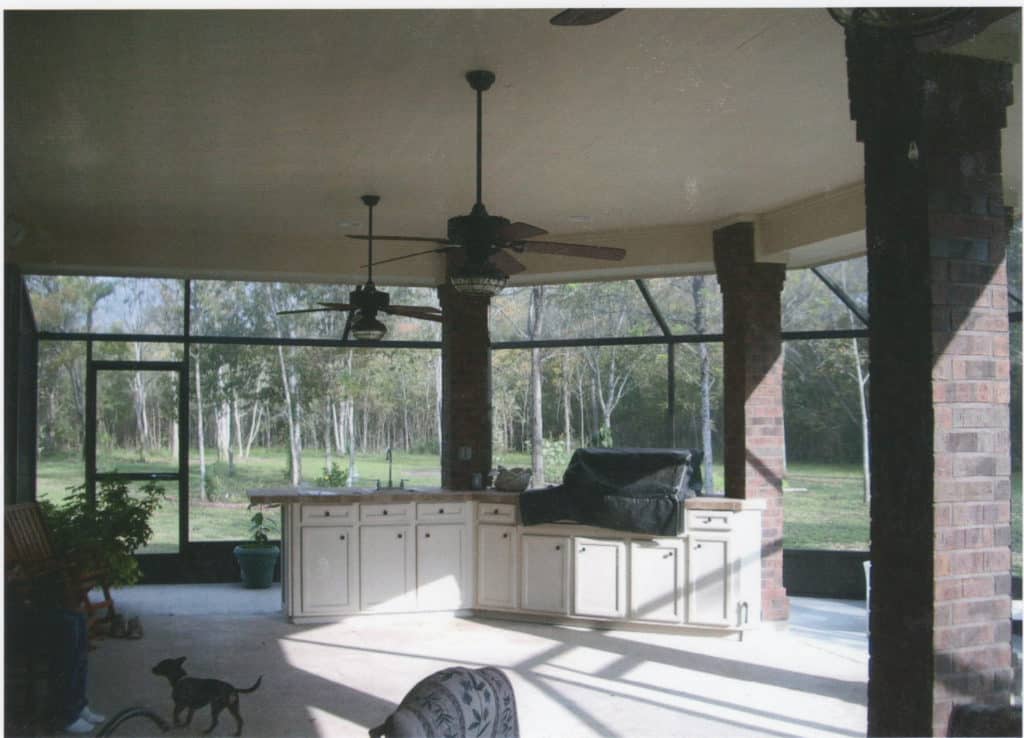 Margaret Curtis
Conroe, TX

Matthew Fox
Magnolia, TX